2020 / 2021 Announcement
Due to COVID, Fiction Foundry has voted to move our physical meetings to virtual ones via ZOOM. We will revisit meeting in person once the pandemic has passed.
BEERS WITH WRITERS will resume meeting in the Colorado Springs, Colorado area for in-person socialization post-COVID. Until then, Zoom meetings for socialization are planned. Contact us to visit.
Welcome
Fiction Foundry is a group of writers, editors, and layout artists coming together to share their work for final peer feedback with the goal of attaining professional publication for every member. Fiction Foundry's membership recognitions received since the group's inception in 2012:
Fiction Foundry is bringing back our news blog, allowing our group to celebrate member publications, news, and other writing-related information the public-at-large. Once we finalize a few things on the blog layout, we'll add a link to the website's menu.
We've been with our host a long...long time. With a heavy heart we felt the need to move our website to a new home. What can be said is that there's been no trouble rebuilding the site and everything seems to be in order.  The site will be finalized by April 15th,...
Newest Short Work Publications
HOWLS FROM HELL
"Manufactured God" by P.L. McMillan
Spacefaring researchers disturb an ancient horror. An enchanted object curses a grieving widow. A haunted reel torments a film student. A murder trial hinges on a chilling testimony.
In Howls From Hell, sixteen emerging horror writers pave the way for the future of the genre. Fans of dark and macabre fiction will savor this exhibition of all-original tales born from one of the fastest-growing horror communities in the world: HOWL Society.
COSMIC HORROR MONTHLY #8
"Sanitize" by P.L. McMillan
We start things off with a jarring tale of horror and handwashing called Sanitize. Then we unravel the mystery of a desert monster through a series of letters in Nomad's Land. Moving quickly, we find another lost legend through the eyes of a group of cross-country runners in Dead Sprint before learning the tragic tale of a young woman and an incubus in Visitor. Before we're through, we'll head down deep into the crypt for a rare find called The Key to Grief, you won't believe it until you read it.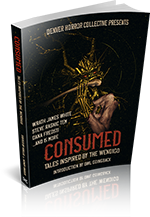 CONSUMED: TALES INSPIRED BY THE WENDIGO
"Cravings" by J.T. Evans | "Planet of the Hungry" by P.L. McMillan | Editors: Henry & Hollie Snider
Hunger that changes you…consumes you…turning you into a nightmare version of what you once were. From desolate snowy mountains and apocalyptic wastelands to New York's sex clubs and virtual encounters, Denver Horror Collective brings you, dear reader, visions of horror inspired by the Wendigo.
With an introduction from Owl Goingback, authors treating you to this plate of delicacies include Wrath James White, Steve Rasnic Tem, Dana Fredsti, R. Michael Burns, Angela Sylvaine, Ian Neligh, P.L. McMillan, Michael Aloisi, Amanda Headlee, Joy Yehle, Ross Baxter, K.D. Webster, Ray Zacek, Elana Gomel, Marlin Bressi, Brenda S. Tolian, J.T. Evans, and Christophe Maso.
So sit back and take a nibble to satisfy your cravings. Better yet, devour these pages and be CONSUMED by what's inside.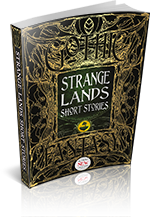 STRANGE LANDS SHORT STORIES
"Gemini Syndrome" by P.L. McMillan
Strange lands in fiction stretch from deep below the earth, to the outer reaches of space. This incredible new collection combines the talents of a new generation of writers with classic and ancient storytellers: from H.G. Wells to Edgar Allan Poe, Daniel Defoe to Jules Verne. Find here too the Land of the Lotus Eaters from Homer's Odyssey and the mad horrors of H.P. Lovecraft, the utopian fantasies of Samuel Butler and, from Hans Christian Andersen an early fantasy about visiting the moon. 'Strange Lands' is fabulous collection of enduring and brand new tales.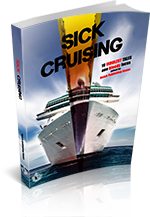 SICK CRUISING
"A Memory in Perylene Red" by P.L. McMillan | "Room Service" by Henry Snider | "Monitored" by Henry Snider | "Stowed Away" by Hollie Snider
Come aboard the ship, the All Powerful. Join the very rich and famous in a joyful escape from the newest sickness that's coursing through nations and lives worldwide. Escape Red Lungs in style. In luxury. Coddled and served by a cadre of young, attractive and well-trained staff.
Red lungs, Covid-21, the Dreaming Disease. It starts with precognitive dreams, spins you into unreality along with the sniffles until it floods your lungs with blood. But if you're rich enough, you may sail to safety in splendor.
NO SLEEP PODCAST
"The Rathwick Ritual on Sentinel Hill" by P.L. McMillan
The story is about a woman visiting the small town of Rathwick. Bored, she follows some townspeople out onto Sentinel Hill in the middle of the night…and soon grows to wish she hadn't!
NO SLEEP PODCAST
"Phone Call" by P.L. McMillan
A woman is awakened in the middle of the night by a panicked call from a friend, begging to be picked up fron in front of a cemetery.
Produced by: Phil Michalski | Cast: Leah – Sarah Ruth Thomas, Katie – Jessica McEvoy, Drew – Kyle Akers, Man – Mike Delgaudio, Woman – Erin Lillis
NEGATIVE SPACE
"The Whale Hunts" by P.L. McMillan
Join us for twelve tales of survival horror, inspired by such legendary video game franchises as Resident Evil, Silent Hill, and Clock Tower…
A nurse wakes up in a hospital basement surrounded by the bodies of her coworkers and finds herself waging a desperate battle for survival against an unseen enemy. An introverted artist's hermitage upon a private space station is interrupted by a multi-limbed alien intent on absorbing him. A woman stalked by a sadistic killer through an apocalyptic landscape decides to make one last defiant stand against her tormentor, or become his next work of living art.
And many more stories…
NOCTURNAL TRANSMISSIONS
"That Which the Ocean Gives and Takes Away" by P.L. McMillan
A seaside tale of Lovecraftian dread to buoy up your week.
HORROR FOR HIRE: SECOND SHIFT
"After Hours" by Henry Snider
The door to the beyond is open and the other side might lead to your termination. Enter the working world again in this second collection of award winning horror told from 12 authors as they tell you about demonic deliveries, conniving coworkers and terrifying technology.Corporate chaos awaits on every page and get both volumes so your work day is filled with nightmares.
B IS FOR BEASTS
"Mrs. Rumtifusel's Coat" by P.L. McMillan | "Thursday Night" by Henry Snider
B is for Beasts, the second book in an epic series of twenty-six horror anthologies. Within these pages you will find a collection of thirteen stories from some of the finest independent writers on the scene today. From oversized bugs to Kaiju, vicious woodland creatures to giant spiders, B is for Beasts contains a range of terrifying stories in which the humans are always the prey.
GHOST STORIES FOR STARLESS NIGHTS
"Trophies" by Henry Snider
Ghost Stories for Starless Nights is an anthology of 22 chilling tales featuring ghosts and the things in the dark that haunt the afterlife. From restless spirits and wayward souls to the darker, more deceptive entities that lurk in these pages, there is sure to be a tale for every lover of ghost stories. Perfect for a starless night, a crackling campfire, a dark corner, or the bright of the day. Settle in and let these creative minds take you on a journey you won't soon forget.
LOVECRAFTIANA
"The Vessel" by Henry Snider
More Cthulhuvian thrills from the modern day heirs of the Lovecraftian legacy!
This issue includes fiction from David Riley, CM Fields, CP Webster, Cameron Walker, Evan Roenhausen, Carlton Herzog, Henry Snider, Mike Lee, Ben Scotti, Lee Clark Zumpe, Dean Wirth, Sergio Palumbo, and Mathew Chabin.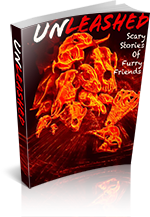 UNLEASHED
"Thursday night" by Henry Snider
For as long as people have been on this planet, we have been the dominant species; even going so far as to tame the wild animals and bring them into our houses.
That is about to change.
The furry friends we think we know, (along with the scaly and aquatic too) are here to remind us that we have every reason to be frightened of what they are capable of.
With twenty stories featuring themes of psychic parrots, zombie hamsters, dangerous dogs and so much more, this collection from Emerald Bay Books will make you think twice about letting your favorite pooch sleep in the same bed.
OCEANS: DARK DRABBLES #9
"Rising Water" by Henry Snider
Savage sirens, selkies, sailors, serpents, suckers, and sea monsters.

What miracles can one hundred debut to bestselling authors do with 100 words?