Archived Bio Page
Hiatus and Alumnus member bio pages are not updated.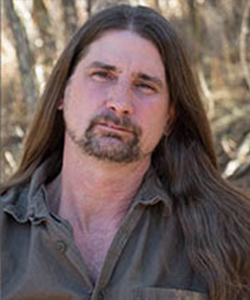 Christopher Katava
Christopher Katava was born and raised in the northwest edge of Los Angeles. Living near a park with a magical small stream and an abundance of open space provided him a deep appreciation for nature and led him to start writing some pretty bad poetry at a young age. He's managed to improve in that department but his main focus is writing short, slice of life fiction and full length novels covering many different genres. Christopher's life path has shown him glimpses of a spiritual unity and respect for all life. He's developed a special bond with the big cats and spends some of his free time giving educational tours where he shares the risk of extinction these majestic animals face. He currently lives in the Colorado foothills where he plays a never ending game of tag with his collection of muses and hopes to one day live near a stream again.
Awards and Acknowledgments
Rise of First World
Released April 3, 2018
For Iain, village life wasn't too exciting until a sudden change in climate forces him to cross the sea in search of a new home for his tribe. There he discovers the stories about strange and mystical beasts are more beautiful and terrifying than imagined.
Alone and plagued by a bitter sense of loss, he is drawn into a maze of interwoven worlds where everyone he meets seems to have their own agenda for him. But battling dragons and an evil sorcerer aren't his only problems. He must discover the one attribute the Hue-man tribes possess that can save them from extinction.
A fierce woman warrior, a mysterious Seraphim, and Iain's own desire to overcome his past provide the best chance of survival. Even then, Iain is confronted by the risk that those he trusts the most may be plotting the destruction of his people and the Rise of First World.