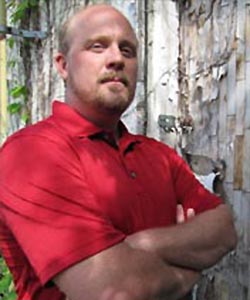 JOHN H. HOWARD
John H. Howard was born in Springfield, Ohio, where he was instilled with a love of reading at an early age on his mother's lap. After earning his BA in English at Wittenberg University in Springfield, Ohio and attending the 1997 Denver Publishing Institute, he went on to work in multiple fields that had absolutely nothing to do with English or publishing. He has lived in Ohio, New York, and New Hampshire and now currently resides in Dayton, Ohio where he works from home as a medical transcriptionist.
A member of the Horror Society as well as Fiction Foundry, John is inspired by mythology, folklore, urban legends, and real life ghost stories and will write almost anything that comes to mind. His published works of horror include "Mrs. Culling's Reformatorium for Wayward Children" in both the "Twisted" fairy tale anthology and the Fiction Foundry "One" anthology, "Moonville" in "Forgotten Places: The Best of the Horror Society," and "Effigy" in Ladies and Gentlemen of Horror 2015. His published works of fantasy include "Cry of the Banshee" in the "Tomes of Distant Realms" anthology and both "The Goblin Lantern" and "Obsidian" in The Ladies and Gentlemen of Fantasy 2014.
Upcoming works include "Paying it Forward" in the Ladies and Gentlemen of Horror 2017, available Halloween 2017 and an original novella, "Ordinary Heroes," slated for release in September.
John would like to acknowledge his incredible wife, Melanie, who keeps him grounded while fully encouraging his insanity, as well as his two wonderful daughters, Kaitlyn and Sarah, who inspire him every day to be the best person and father he can be and who may one day be allowed to read his works.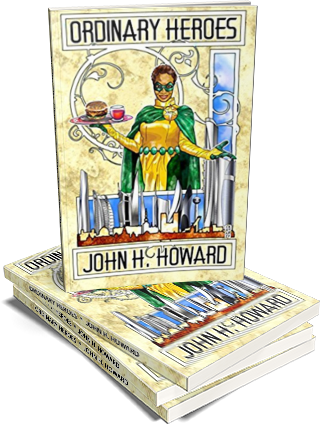 ORDINARY HEROES
Released October 14, 2017
Jacqueline Nelson is a single mother, barely scraping by as a waitress at a superhero-themed restaurant named Sidekicks Grill. She lives in a world where epic battles between superheros and supervillians dominate the news. A cancer survivor, Jackie has undertaken an experimental treatment, with one side effect — the ability to read people's auras. But she prefers to keep this to herself; she's no superhero, after all. And, as if she didn't have enough to worry about, Jackie is also trying to decide whether her admirer Michael is one of the good guys or one of the bad guys. When she and her son Lucas are caught in the nightmare of an apparent supervillain attack, Jackie must make a choice that will define who she is, to herself, her son, and the world. After all, not every hero wears a cape.