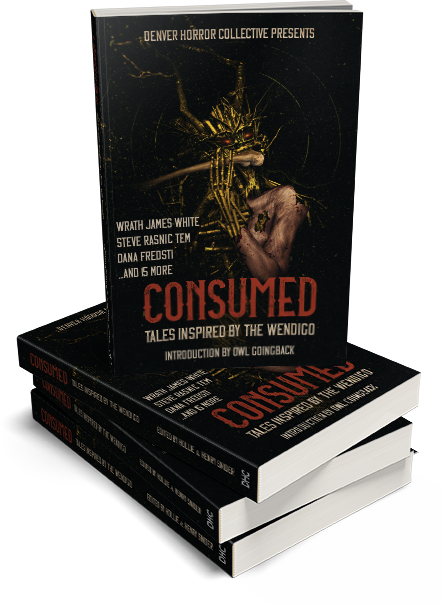 Consumed: Tales Inspired by the Wendigo
Edited by Henry and Hollie Snider
The Denver Horror Collective presents:
Hunger that changes you…consumes you…turning you into a nightmare version of what you once were. From desolate snowy mountains and apocalyptic wastelands to New York's sex clubs and virtual encounters, Denver Horror Collective brings you, dear reader, visions of horror inspired by the Wendigo.
With an introduction from Owl Goingback, authors treating you to this plate of delicacies include Wrath James White, Steve Rasnic Tem, Dana Fredsti, R. Michael Burns, Angela Sylvaine, Ian Neligh, P.L. McMillan, Michael Gore, Amanda Headlee, Joy Yehle, Ross Baxter, K.D. Webster, Ray Zacek, Elana Gomel, Marlin Bressi, Brenda S. Tolian, J.T. Evans, and Christophe Maso.
So sit back and take a nibble to satisfy your cravings. Better yet, devour these pages and be CONSUMED by what's inside.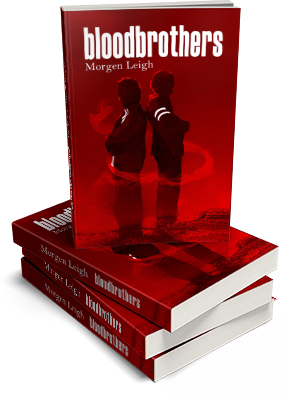 Bloodbrothers
Morgen Leigh
Two boys fighting for salvation. A deranged mother bent on domination. A final confrontation that will drag them all into the abyss.In the small Oregon town of Cutters Grove, two friends lock horns as their lives speed in different directions. Eighteen-year-old Alex has it all figured out. An excellent student and violin prodigy, Alex is Juilliard-bound, his future bright. But the shocking suicide attempt of his best friend Joe spins Alex's well-ordered life out of control.In an attempt to save Joe, Alex embarks on a harrowing journey into their shared past, where he digs up hard truths, exposes raw memories, and finally shoulders his long-abandoned guilt. While Alex struggles to hold his world together, Joe's monstrous shadows grow over them both, pulling Alex into a dangerous and surreal world of Joe's making.Locked in a war of wills, Alex must face his final choice: sacrifice his soul to save his friend…or allow Joe's demons to consume them both.
Hallowed Promises: Adventures in Paranormal Archaeology
W.J. Cherf
With magic there are always unintended consequences……Only a high-adept can minimize them, but even then mistakes are still honestly made. Hallowed Promises is about such unintended consequences, about mistakes made, and the lengths that people will go to in order to right their wrongs.Pride, ego, peer pressure, and disrespect for long-standing traditions can all play a role on the dramatic paranormal stage, just as the rigid adherence to the status quo stifles natural creativity and innovation.Hallowed Promises is the fourth stand-alone book in W.J. Cherf's series entitled, Adventures in Paranormal Archaeology. It is a thoughtful tale of archaeological discovery, coven espionage and high-diplomacy, and lost love. Once again the Austrian Egyptologist Erik Reissen plays his part, as does the beautiful Egyptian witch Melaina Makris and her husband J.J. Stone, the TIIIS Lictor of Magic and carrier of the First Soul of Creation. As always, the forces of CMES lurk about to muddy the waters, but this time one of their brethren contributes to a potentially positive outcome for the future.
Iron From the Sky
W.J. Cherf
Did a meteor impact kill a pharaoh? It all began with an engine failure that led to a crash landing. The event and its aftermath were chronicled by two Egyptian hieratic papyri found in Lahun and Buhen. The satellite discovery of the impact site prompted the dispatch of Dr. Joseph Richards, Vesna Gregorieva, and Colonel Cartwright's security team to the scene. What they found was more than they bargained for. Based upon that present-day foray into the Egyptian desert, a temporal drop of a purely scientific nature was approved by representatives from both the American and Russian Academy of Sciences. Once on the scene, Richards and Gregorieva witness the impact and discover so much more. Iron from the Sky is the last book of award-winning series, The Manuscripts of the Richards' Trust. For those faithful readers of the five book series, the content of this sixth book falls between book two—Recovery, and book three—The Children of Ptah.
Viper's Bane
J.T. Evans
Marcus Barber, the immortal Roman centurion, must rescue his friend, Eddie, from maniacal mercenaries hired by his former lover, Joelle. In addition to saving Eddie, Marcus must also track down the location of the Egyptian Ancient, Apep, and rescue him from a cult attempting to use his essence to poison the Riverwalk area of San Antonio. All the while, he continues his quest to find his father, and has a side gig of stealing corporate documents for a white-collar espionage job.
Super-Sync
Kevin Ikenberry
An offer they couldn't refuse. A deal that would set them up for life.
Lew Armistead Holmes' life was about to get better…much better. Part of the crew of the salvage ship Remnant, she just got a contract to go further into space than she's ever been before, to retrieve a satellite that is so big it will take two ships to bring it back. The payday is equally large, and her share is big enough to get her off Remnant and away from her peculiar captain and his secrets.
Unfortunately, the captain of the other ship tasked to the job harbors a grudge against Remnant's commanding officer from the last time the two worked together on a project. Separately, they are each like dynamite—ready to go off at any time. When they're together, it's like lighting the fuse.
But the payoff on the unknown satellite is huge, leading both crews to wonder what the satellite holds, and what they aren't being told about it.
Both crews must work together to bring the satellite back to Earth, but there are plans within plans, and no one is exactly who the others think they are. Who will come back with the satellite at the end of the mission…and who won't come back at all?
Dhampirica: Adventures in Paranormal Archaeology III
W.J. Cherf
Vampiric bones remain viable until incinerated…Dhampir, noun, masc. -ica, fem. 1) Progeny of a male vampire and human female. 2) Vampire hunter. Etymology: from Albanian, dham (teeth) and pirë (to drink). Serbian vampijerović, vampirović, and vampirić. See Bosnian lampijerović, with the literal meaning of "vampire's son." Wikipedia.Dannica, a dhampirica, occupied a uniquely lonely place between the paranormal and mortal worlds. Many of the former were her prey; none of the latter would accept her.As a young girl, Dannica witnessed her vampiric father take her mother. With her mother lost to her, Dannica dreads facing her father. She doubts what her very nature demands and fears she will not be able to do what she must. Dhampirica is the third book of the series Adventures in Paranormal Archaeology. Archaeologist Erik Reissen investigates a mysterious mound burial and recovers for his Vatican masters the skeletons of two werewolves and the tortured remains of a vampire. For the first time in history, recovered archaeological remains escape from storage! Reissen enlists Dannica to give chase, and ultimately the dhampirica squares her old vow for revenge.
Honor the Threat
Kevin Ikenberry
Peacemakers. The Galactic Union's most capable enforcers and resolute negotiators, their name alone elicits fear and awe among the Union's citizenry. Except for Jessica Francis. Not only is she the newest Peacemaker, Jessica is also the first Human Peacemaker, and she commands the respect of few, both inside and outside the Peacemaker's Guild. No one believes humanity is ready to take on the mantle of being a Peacemaker, and Jessica is stuck flying a desk. That is, until a species-induction mission comes along, and she is in the right time and place to get assigned to it. The jungle world of Weqq was terraformed millennia ago and seeded to grow medicinal herbs to be used in the event of war. But when a routine MinSha collection mission stumbles upon a young TriRusk, a race that can synthesize diamonds and hasn't been seen in centuries, the mission's leader knows that more than just the MinSha will be interested in the creature, and that a Peacemaker's aid will be necessary to protect the species. With mercenaries sent to kill everyone on the planet and an administrator reluctant to turn over the young TriRusk, a negotiated solution may be impossible, despite Jessica's best intentions. Outnumbered and outgunned, there's only one thing Jessica knows; she's got them right where she wants them.
Rise of First World
Christopher Katava
For Iain, village life wasn't too exciting until a sudden change in climate forces him to cross the sea in search of a new home for his tribe. There he discovers the stories about strange and mystical beasts are more beautiful and terrifying than imagined.Alone and plagued by a bitter sense of loss, he is drawn into a maze of interwoven worlds where everyone he meets seems to have their own agenda for him. But battling dragons and an evil sorcerer aren't his only problems. He must discover the one attribute the Hue-man tribes possess that can save them from extinction.A fierce woman warrior, a mysterious Seraphim, and Iain's own desire to overcome his past provide the best chance of survival. Even then, Iain is confronted by the risk that those he trusts the most may be plotting the destruction of his people and the Rise of First World.
Diamond Eye Phyllis
Jennifer Caress
Diamond Eye Phyllis is an intergalactic thief who travels from world to world, stealing what she can, taking what her boss sends her to retrieve, and screwing it all up as she goes along. Author Jennifer Caress takes you on a wild and psychedelic ride through Phyllis' outrageous misadventures, one otherworldly tale at a time.
Sikevra
Carolyn Kay
Sikevra–the word carries a variety of meanings: outlaw, bane, traitor, hated beast. There is no being in the Hidden Lands more reviled or more disgusting. Sikevra are banished and exiled forever. The gods themselves state that their souls are destroyed upon death with no hope of salvation in the afterlife. Princess Galessel is sikevra. It doesn't matter that she committed no crime or had done nothing to deserve the marks she bears; she is now loathed by the very people she is trying to save. Can Galessel and her loyal friend, Clove, save the fae living in Ashelon before someone can collect the bounty on her head? Can she foil Queen Victoria's scheme to invade the Hidden Lands? And if that weren't enough, the Hammer Guardians have returned to slay as many of the fae folk as they can get their hands on…starting with Galessel and Clove.
Runs in the Family
Kevin Ikenberry
An outcast of the Eden Academy, physically unfit for military duty and lacking a civil service assignment, Mairin Shields is going nowhere fast. With little hope of leaving the outer rim of the Milky Way, Mairin agrees to participate in a classified experiment offering her genetic perfection and a chance to see the galaxy. Now, armed with her great-grandfather's military knowledge and combat-refined instincts, Mairin is tasked with leading inexperienced troops in a war against a shadowy enemy using hauntingly familiar tactics. But the first rule of the military is "Hurry Up and Wait," and Mairin learns this firsthand. Without transport to the fight, Mairin spends the downtime on a lush paradise world, getting to know her new body, her imprint, and her heart. Mairin meets Tallenaara, a beautiful Styrahi architect whose mission and past will come to challenge them both. Faced with the most difficult choice of her young life, Mairin Shields can only watch as her world spins out of control.
Phantom Limb Itch
Amity Green
This is my journey. because when you're a gargoyle with strong goddess tendencies, that's what you do. 
Weeks ago, the world as I knew it—as everyone knew it—became a whole different planet. Other things live here, too. Ancient souls breathed right alongside me. Gargoyles, Celtic gods, ethereal water beings, creatures thought only to live in dreams, nightmares, and Fairy tales, fought to hold their ground. 
And I am one of them; no longer human. I'd lost myself but gained abilities. I will use them, exploit all I have, for the good if I can just keep breathing. Fate is on my trail and she's a blithe and deadly hunter. 
Stand or Fall
Kevin Ikenberry
Peacemakers. The Galactic Union's most capable enforcers and resolute negotiators, their name alone elicits fear and awe among the Union's citizenry.
While the occupation of Earth continues, MinSha mercenaries under the command of Major General Drehnayl have assaulted Human-held colonies in the outer rim, wiping them out completely. With the famed Four Horsemen nowhere to be found, the Mercenary Guild's attempt to instill fear and subvert humanity is perilously close to reality. Tasked with finding the MinSha is Jessica Francis, Earth's first Peacemaker, but the odds aren't in her favor. Racing against time, Jessica realizes that finding Drehnayl's forces isn't enough—she must do something to stop their atrocities and end their reign of terror.
Upon locating the MinSha fleet, Jessica faces down Drehnayl's armada with a band of heroes both hopelessly outmanned and under-equipped on the binary planet Victoria Bravo. Her decision made, and with MinSha Lieutenant Colonel Tirr and the near-AI Lucille at her side, Jessica charges into battle intent on stopping Drehnayl once and for all…or to die trying. A Peacemaker must set the terms, honor the threat, and know when to stand or fall. For Jessica and her friends, that time is now.
I Don't Want to Die at the DMV: A Diamond Eye Phyllis Tale
Jennifer Caress
A story from Jennifer Caress' wild science fiction collection, "Diamond Eye Phyllis, Volume One." Intergalactic thief Phyllis is no stranger to misadventure, but can she survive a visit to the endlessly unnerving Department of Motor Vehicles?
Griffin's Feather
J.T. Evans
Marcus Barber is a two-thousand-year old immortal, a former Roman Centurion who now works as a bounty hunter for supernatural creatures from the ancient world. When he's not pounding the pavement as a private investigator for mortal clients, Marcus chases down missing mythological creatures for the Ancients. 
Now, in the heat of San Antonio, Marcus must search for Nemesis's missing Griffin while trying to rescue a melting Ice Pixie from an eccentric collector. His adventures put him on the trail of a cult that has kidnapped a Daughter of Frejya. All in a day's work.
While roaming the sprawling metroplex, Marcus is tasked with obtaining Chaac's lightning axe from the grasp of Tawhaki. Working under a tight deadline from the Ancients (who treat him as a pawn in their games), Marcus enlists a friend's help, but he has to hide the strange events and creatures. On top of the Ancients' demands, Marcus is also hired by an assistant district attorney who wants him to track down a missing mistress…a woman with whom Marcus has his own turbulent past. 
By leveraging his stubbornness and his specialized skills, Marcus has to accomplish everything within 24 hours … or else the Ancients will have his immortal soul.
Smothered
B.T. Clearwater
Annie's in trouble at work, her ex-boyfriend is stalking her, and she's just inherited her late mother's dilapidated Victorian home in Denver. The last thing she needs in her life is a man . . . but when handyman Mike Tolbert comes to fix her dishwasher, sparks fly.
Mike doesn't exactly need the distraction of a relationship himself. A combat veteran of the Iraq war, Mike suffers from post-traumatic stress disorder. His wife left him, and he's struggling to make ends meet while still providing for his young daughter. Yet something about Annie snags his heart and he finds he cannot walk away from her.
As Mike and Annie build a relationship, they discover Annie's late mother hasn't exactly left the house—and she's certainly not leaving them alone. In fact, she's more than willing to cross the barrier between the worlds to control her daughter's life.
With the ghost of her mother haunting them, Mike and Annie face his PTSD, her troubles at work, legal battles over the house, and a deadly plot to force Annie out of her childhood home—as they fight to keep their love alive.
The Lictor of Magic
W.J. Cherf
The Adventures of a Demon Slayer Since earliest antiquity CMES—Consilium magorum et sagarum, The Council of Magicians and Witches, held sway over the paranormal communities of the earth. Their self-centered agenda of power and dominion, and blatant use of dark magic, chafed those allied to them and not. For almost as long TIIIS—The International Integrated Interface Society, while vexed by CMES' oppression, never found itself in a position to challenge it. That all changed when J.J. Stone, the carrier of The First Soul of Creation, became their new Lictor of Magic and champion for good. The Lictor of Magic, the second installment of The Adventures of J.J. Stone, chronicles Stone's arduous training that transforms him from a U.S. Marine into a soldier-magician. Stone's early career takes place against the backdrop of a vicious power struggle between the forces of good and evil, where he quickly learns that the true enemy is dark magic, demons, and those possessed by them.
I Am the Storm
W.J. Cherf
Since earliest antiquity CMES—Consilium magorum et sagarum, The Council of Magicians and Witches, held sway over the paranormal communities of the earth. Their self-centered agenda of power and dominion, and blatant use of dark magic, chafed those allied to them and not. For almost as long TIIIS—The International Integrated Interface Society, while vexed by CMES' oppression, never found itself in a position to challenge it. That all changed when J.J. Stone, the carrier of The First Soul of Creation, became their new Lictor of Magic and champion for good. I Am the Storm is the final installment of The Adventures of J.J. Stone. In it, Stone, now a well-seasoned soldier-magician and defender of good versus evil, overcomes several challenges and, in the end, vanquishes CMES. Now so cowed, an uneasy peace settles upon the paranormal world.
Peacemaker
Kevin Ikenberry
Peacemakers. The Galactic Union's most capable enforcers and resolute negotiators, their name alone elicits fear and awe among the Union's citizenry.
Having completed a harrowing confirmation mission, Jessica Francis stands ready to become Earth's first Peacemaker and believes obtaining her commission is a mere formality. However, certain members of the Guild question her ability. Worried that she'll fall back on her mercenary ways, they want Jessica to prove her mettle at the negotiating table before she puts on the distinctive insignia of a Peacemaker.
Dream Worlds are terraformed planets inhabited by multiple species living and working in harmony. Operated by a governing Consortium, each carefully-controlled world is marketed as a paradise, but Araf is far from. The conditions are deplorable, and its three colonies are moving relentlessly toward all-out war over scarce resources and broken promises.
A three-way showdown for dominance looms—can Jessica prevent war and bring back peace? One thing is certain; she's never walked away from a fight, and she's not going to start now.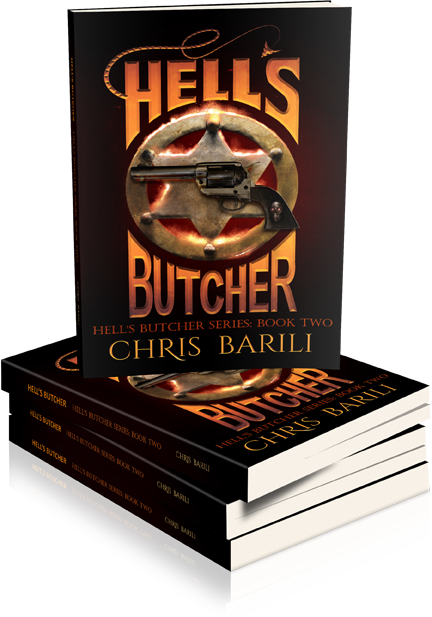 Hell's Butcher: The Hell's Butcher vol. 2
Chris Barili
Hell's Marshal Frank Butcher and his ragtag posse are back, this time wreaking havoc on the civilized east coast. Sent to bring back John Wilkes Booth and his gang before they can kill the current US President, Frank wrestles with what appears to be his destiny: killing innocent people. Equipped with a new gun that seems to enjoy killing, Frank struggles to keep himself under control. Meanwhile, Booth and his gang traverse his old stomping grounds, plotting to kill the president and re-start the civil war. Frank and his friends–with help from an unlikely place–have to stop Booth's plot, and keep Frank from losing himself in death.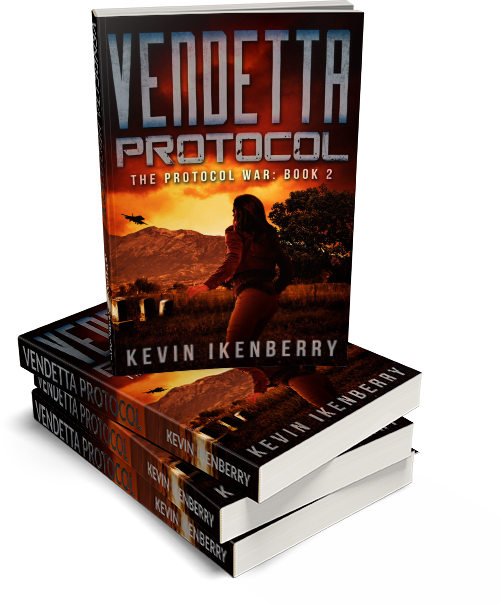 Vendetta Protocol (Protocol War vol. 2)
Kevin Ikenberry
Training as a combat pilot on Mars, Kieran Roark is tantalizingly close to remembering the critical concept he was brought back to lead. With the military establishment, including his instructors, against him, his success hinges on finding the right ally, someone who is willing to risk everything. Sixty million miles away, the Sleeper Program suffers a failure much worse than it originally appears. The second subject, a troubled young woman, attempts suicide. In the ensuing chaos, Kieran's original protocol finds a way to manifest herself in a human body. Believing Kieran dead, Mally seeks out everyone Kieran loves with vengeance on her mind. As a shadowy foe presses toward Earth once again, the Terran Council orders the Sleeper Program terminated and sentences Kieran to death. The only person capable of saving him isn't really a person at all.
Guilty: Hell's Butcher Prequel
Chris Barili
Gunfighter Frank Butcher is dead, shot in the chest by a U.S. Marshal who got the drop on him in a Tombstone saloon. Now he finds himself in the underworld, a twisted, terrifying version of the real world, where he must face judgment for all the people he's killed. The judges of the underworld–Morgan Earp, Wild Bill Hickok, and a former marshal who bears Frank a deep grudge–decide Frank will be tested to determine his damnation or salvation. Given a native guide to help him, Frank must face five of his kills, only one of which was justified. The rules are simple: shoot only the justified kill, sparing the others. And don't die, for death will leave him trapped in the underworld, reliving his sins over and over for all eternity.
Dien-Vek
Carolyn Kay
The year is 1850 in the world of man.Fifty years ago, a comet crashed into the continent of Zorrovia, bringing destruction and a magical curse. Faerie glamour is no more. All of the fae folk—elves, trolls, goblins, gnomes, faeries and their kith and kin have been revealed to mankind. Now the mortals of Ashelon and the citizens of the Hidden Lands struggle to coexist.Galessel, Princess of the Elven court, is the newly appointed ambassador to Queen Victoria of Ashelon. She's nervous about her new post, and curious to see for herself how the beings of the Hidden Lands are faring among the mortals. What she discovers leads her down a path that could change her world forever.Ashelon is a land where true steampunk is on display. These aren't just pretty little Victorian tales. These are gritty stories about multi-cultural punks fighting against the establishment in an attempt to destroy Imperialism. Only one thing stands in their way: Ashelon's Queen Victoria and the gods that are on her side.
Legacy: Twisted Roots 3
Shelly Goodman Wright
Hunter stopped just shy of the cobblestone path. He wrapped his arms around me. "Not much longer," he whispered. "You won't be confined to the property." 
"And why is that?"
Jessica's longtime dream has always been to visit all the places she had read about. Knowing demons surrounded the protected grounds, she is completely surprised when Hunter whisks her far away from the Okefenokee Swamp to show her the world. But Davior's warning to not leave the compound echoes in her mind.
The First Soul
W.J. Cherf
It all began with a simple touch. At the Battle of Nasiriyah, U.S. Marine Sergeant J. J. Stone's life flat out changed. Ducking enemy fire, he fell into a mortar crater and stumbled across an artifact. Curious, Stone touched it. Big mistake, for the soul of a Sumerian took possession of him. Fortunately, this ancient soul was on a worthy quest–to find his wife's remains. As if that weren't enough, Stone didn't know his importance to the cosmic order, until told by an emissary of a primordial being. Stone learns that he carries the First Soul of Creation, has mind-blowing potential, but age-old responsibilities–many of them quite formidable. Stone, in essence, is a semi-divine being, warts and all. But don't tell him that to his face. The First Soul, the first book of a new paranormal adventure series, chronicles the beginning of a Marine's personal journey of self-discovery in a mortal world that isn't quite what it seems–a vast and complex paranormal battleground where evil must be met head on, be it dark magic, demons, or those possessed by them.
Hell's Marshal: Hell's Butcher vol. 1
Chris Barili
Gunfighter Frank Butcher is in Hell, and that's where he wants to stay. Unable to forgive himself for killing his father and his only son when he was alive, Frank wants nothing more than to spend eternity suffering. When the soul of Jesse James escapes from Hell and picks up where he left off in the living world, the judges of the underworld send Frank to bring him back. But James has a darker purpose than just robbery and trouble-making, meaning Frank and his misfit posse must send the killer back to Hell before he plunges the United States into war.
Sleeper Protocol (Protocol War vol. 1)
Kevin Ikenberry
Kieran Roark awakens in a wheelchair, unable to remember anything. As part of a classified experiment, he will have one year to learn his identity and recover his memory, or he will be euthanized by the state. 
Scientist Berkeley Bennett has one mission: manipulate Kieran's emotions in an attempt to bring back his memory. But when she falls in love with him, she is forced to make a harrowing decision that may cost Kieran his life. 
What Kieran knows could save Earth from a coming war. Whether he believes the future is worth saving is another matter. Racing across an unfamiliar world in a body he does not recall, Kieran needs to discover who he was and, more importantly, who he is.
"… an emotionally powerful debut …" ~ Publishers Weekly 
Stolen Eye's: Book 2 of the Nanobot Wars
Courtney Farrell
Earth is taken. Women are almost extinct. Bianca, the twisted, feminine AI, has infected every mind. Survivors retreat to a space station, where scientists develop a powerful, short range weapon. Bianca slips from one body to the next, so finding her is impossible. But she'll show up to take sixteen-year-old Jackie, the only host who won't sicken and die if she gets infected. The admiral wants Jackie to return to Earth as bait, but if she sets off the device, the blast could age her 75 years in an instant. Jackie refuses. Then Bianca's nanobots sabotage the station. It won't stay in orbit much longer. Jackie takes off with the device, prepared to sacrifice herself. She doesn't count on being followed by the guy who loves her.
Sacrificed: Book Two of the Enhanced Series
Courtney Farrell
At the Institute, they breed the best and kill the rest. Sixteen-year-old Michelle is a survivor, but she's a pawn in their game. A remote arctic military base mysteriously goes silent. The Institute's founder needles his old enemy, the colonel, by sending teenagers to help. Michelle's half-breed boyfriend Dillon makes the team, along with her hot ex, who won't give her up. At the base, Norms attack. The rebels capture Michelle, but they're not the brutal savages she imagined. Their cause is a just one. Will she take up arms against her own kind? Meanwhile, Dillon faces his own temptations. As a half-breed, he'd never succeed at Headquarters, but military doctors think he's special. The colonel offers him a sweet deal, with money, status, and beautiful girls. All Dillon has to do is wipe out the Norms who are harboring Michelle.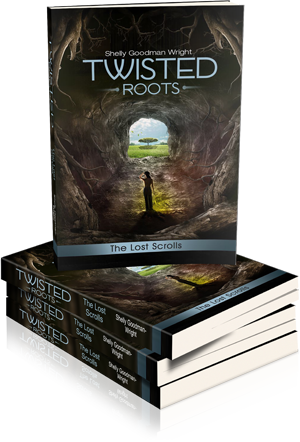 The Lost Scrolls: Twisted Roots 2
Shelly Goodman Wright
Three scrolls. Three continents. Three demons in pursuit. Jessica wants nothing more than to stay on the protected grounds of the Okefenokee Swamp and plan her wedding, but the spirit of her dead father has other plans and leads her to a wooden chest. Inside the battered antique, an old secret is uncovered, sending Jessica on the adventure of her life. Demons on her trail, an unexpected red-haired rival wanting her dead, and the heartache of leaving her fiance, overshadow Jessica's desire to unravel her twisted family tree.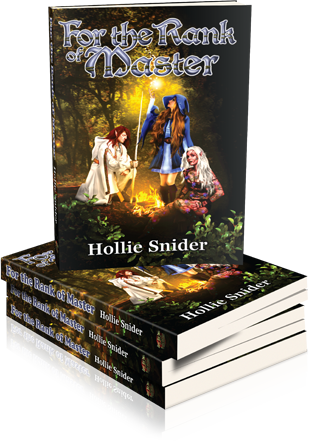 For the Rank of Master
Hollie Snider
An ancient evil threatens the land, domain of elves, humans and dwarves-home to the Gods themselves. Shadows fall where sunlight shone. Life is draining away, leaving a wasteland in its wake. After narrowly surviving his Hyth Kisk, Tehan is chosen by the Guardians to combat the rising threat. Forced to face a wizard or sacrifice Darkanth to the coming darkness, Tehan is the unwilling leader of a group called forth from his past. Friends undertake the journey with him, refusing to sacrifice their world. Along their journey, deceit and betrayal surface. New bonds form, while old ones snap. Things are not what or who they seem, and when hidden truths arise, some tear at the very fabric of Tehan's soul. From a cursed lake to hellish towen, these would-be saviors must overcome or lose themselves as well.
Bait
Courtney Farrell
An epidemic strikes. The pox hit women hardest, so females are rare. Healthy girls are worth a fortune. Most live in squalid basement harems. Jackie is the last free girl, chief of a gang of teen boys. To them, she's the prize, infinitely desirable, the last woman on earth. Competition threatens to tear the crew apart. To make things worse, the boys are starting to think she's crazy. Jackie is convinced that the same soul shines from the eyes of every infected person, slipping like a demon from one body to the next, stalking her. Is she losing her mind, or could an unseen enemy control the infected? When rival gangs discover that their little band has one of the last surviving girls, Jackie must make a decision. Will she give herself up to save her crew, or take off alone through the streets?
Enhanced
Courtney Farrell
Sixteen-year-old Michelle is a product of the Institute's eugenics program, where people are bred like livestock. One doctor decides which kids get to grow up, and which disappear. Only Culls walk into the slum outside Institute walls, and they never come back. Michelle has survived every purge, and she's about to win a luxurious life as a breeder. Then the doctor banishes her brother Seth and her boyfriend Brian, and she risks everything to find them in the cutthroat slum. She's in trouble until handsome Dillon stakes a claim to her. Michelle is mortified, because Norms are practically animals. But the doctor is using the missing boys in a twisted plan and she needs Dillon's help to stop him. Michelle and her friends must find Seth and Brian, but a plague is spreading, the doctor is after her and Dillon isn't thrilled to help her find her lost boyfriend.
Windwalkers
R. Michael Burns
When a nightmarish blizzard drives college students Nick Bookman and Robin Kelley to take shelter in a small-town Minnesota church, they are forced to confront the intimate secret that is tearing their friendship apart. The appearance of another storm refugee, Alicia Morgan, an attractive high school senior and self-described witch, arouses Nick's interest and threatens to strain the old friends' relationship past the breaking point. Then one of the men trapped in the church disappears in the deep of the night, and his young daughter stumbles in from the storm babbling about monsters. Only Alicia recognizes the creature from the child's tale—a wendigo, an ancient spirit that hungers for human flesh. Soon these monsters are on the hunt, and the refugees discover they must fight not only the menace that haunts the storm, but their own darkest desires. If they cannot control their hungers, they will be consumed by them. Only the strongest hearts among the strange band of storm refugees have any hope of surviving the long dark night.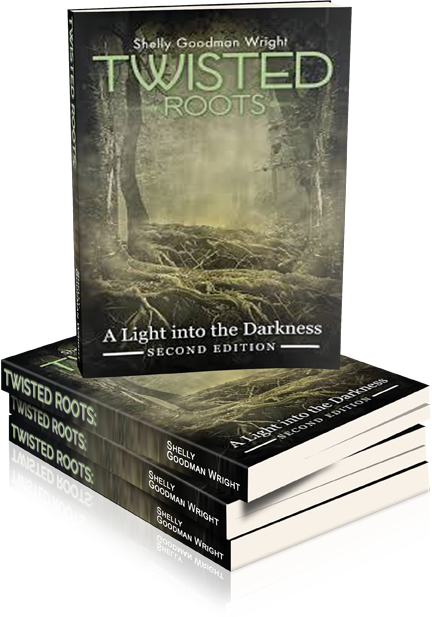 Twisted Roots: A Light Into Darkness
Shelly Goodman Wright
"I want to tell you something now. I need you to listen closely and don't forget. I'm not sure how much time I have." He stopped again and shook his head at the sky. He then pointed out a vivid star high above them in the moonless sky. "There are magical places that exist in this world, Jess, places the master architect created to balance good and evil. The time will come when you will leave this house and enter into another life that awaits you.  A life you deserve with a greater purpose. You don't know how special you really are."