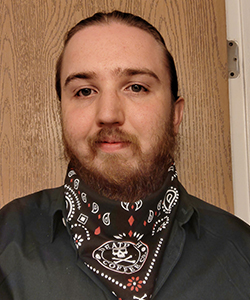 Josh Snider
Fiction Foundry President
Bio Forthcoming
President –  Fiction Foundry – 2018 – Nov, 2022
Co-Founder – Fiction Foundry (est. 2012)
IN THE WOODS
"Woodland Signs"
Strange things can happen in the woods.
Sometimes they're frightening.
Sometimes they're funny.
Sometimes they're just plain weird.
The authors of the Fiction Foundry writers' critique group have taken it upon themselves to explore all the strange things that happen in the often majestic and yet often harsh woodlands.
Featuring contributions by John H. Howard, Sangita Kalarickal, Josh Snider, Carolyn Kay, Robert Lewis, Charli Cowan, Henry Snider, Shiloh Silveira, Kari J. Wolfe, Christophe Maso, and Hollie Snider, this anthology brings us out of urban life and shows a world of forest spirits, haints, mental illness, parasitic spiders, werewolves, out of control plants, evil forces, reincarnation, humans with animal ears, witches, and Lovecraftian horrors.
And all of them can be found…In the Woods.