Archived Bio Page
Hiatus and Alumnus member bio pages are not updated.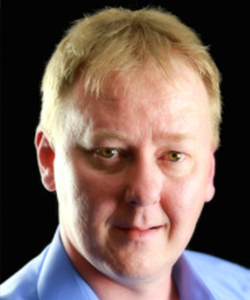 J.T. Evans
J.T. Evans arrived on this planet and developed into an adult in the desolate, desert-dominated oil fields of West Texas. After a year in San Antonio, he spent a year in the northern tundra of Montana. This year-long stint prepared him for the cold (yet mild compared to Montana) climate of the Front Range of Colorado.
He has thrived in The Centennial State since 1998 with his lovely Montana-native wife and rapidly growing son. He primarily pays the bills by performing computer security and other technocentric duties. Like most writers, he dreams of earning enough income via publications to drop the day job and prosper.
J.T. rekindled his love for writing with his discovery of the Colorado Springs Fiction Writers Group in 2006. He was the president of the organization from January 2009 to January 2013. Even though he's no longer part of the CSFWG, he has continued writing and expanding his knowledge of the business and craft.
J.T. is also a member of Pikes Peak Writers, which he joined in 2008. J.T. was elected the vice president of PPW in January of 2013, and stepped into the role of president of PPW in September of the same year. He resigned from this role in April of 2017.
When not flinging code at the screen or throwing words at the wall, he enjoys role-playing games, homebrewing, Cub Scouts with his son, and avoiding anything related long walks on the beach.
For more details about why he writes, what he likes to write, and similar topics, refer the other pages that he has created.
Viper's Bane
Released March 12, 2019
Marcus Barber, the immortal Roman centurion, must rescue his friend, Eddie, from maniacal mercenaries hired by his former lover, Joelle.
In addition to saving Eddie, Marcus must also track down the location of the Egyptian Ancient, Apep, and rescue him from a cult attempting to use his essence to poison the Riverwalk area of San Antonio.
All the while, he continues his quest to find his father, and has a side gig of stealing corporate documents for a white-collar espionage job.
Griffin's Feather
Released October 29, 2017
When he's not pounding the pavement as a private investigator for mortal clients, Marcus chases down missing mythological creatures for the Ancients.
Now, in the heat of San Antonio, Marcus must search for Nemesis's missing Griffin while trying to rescue a melting Ice Pixie from an eccentric collector. His adventures put him on the trail of a cult that has kidnapped a Daughter of Frejya. All in a day's work.
While roaming the sprawling metroplex, Marcus is tasked with obtaining Chaac's lightning axe from the grasp of Tawhaki. Working under a tight deadline from the Ancients (who treat him as a pawn in their games), Marcus enlists a friend's help, but he has to hide the strange events and creatures. On top of the Ancients' demands, Marcus is also hired by an assistant district attorney who wants him to track down a missing mistress…a woman with whom Marcus has his own turbulent past. By leveraging his stubbornness and his specialized skills, Marcus has to accomplish everything within 24 hours … or else the Ancients will have his immortal soul.